Select a Major
The volleyball major is for campers of all skill levels. Players will be grouped by age, skill, and experience so they can train and be challenged accordingly. Our professional coaching staff will focus on individual skill development, including serving, passing, defense, hitting, blocking, and setting. Team concepts will also be emphasized throughout the the 3 week program. A 4:1 campers/counselor ratio and multiple indoor courts will ensure a drill philosophy that ensures as many touches per camper as possible. Campers will be on the court for 2 sessions daily.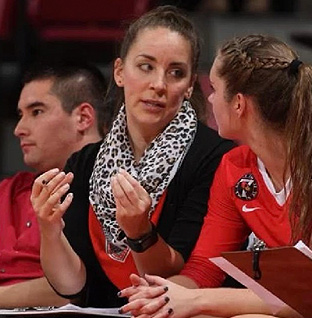 Melissa Myers
Volleyball Director
We are thrilled to introduce you to our outstanding Head Volleyball Director, Melissa Myers. With her impressive background and Division I coaching experience at Illinois State University, Melissa is ready to take our volleyball program to new heights!
Melissa was a two-sport All-American at Juniata College. As her love for volleyball evolved, Melissa transitioned from being an assistant coach in both Volleyball and Track & Field at the collegiate levels to becoming a dedicated head coach, focusing solely on volleyball.
Over the years, Melissa has amassed an impressive coaching resume, spending six years at the Division II level and nine years at the Division I level, at Illinois State. Her teams have secured numerous conference and region championships, while Melissa herself has been recognized as the Conference and Region Coach of the Year on four occasions.
She was rightfully inducted into the Juniata College Sports Hall of Fame in 2009, recognized as the only two-sport All-American in the school's history. Additionally, her remarkable coaching led to her induction into the California University of PA and Cambria County Sports Hall of Fame in 2017 and 2021.
With a bachelor's degree in Human Behavior and Communications, as well as a master's degree in Exercise Science and Health Promotion with an emphasis in Performance Enhancement, Melissa's knowledge and expertise extend beyond the volleyball court. Her dedication to helping athletes improve and gain confidence extends through the past 25 years, during which she has organized and run summer camps can clubs with great enthusiasm and passion.
Sample Morning Session:
Warm Up Drills:
Toss Up Setting
Four Sets
Butterfly Passing/Serving
Queen of the Court
Rapid Fire
Skill Stations (6 minute rotations):
Defense/Ball Control
Attacking
Serve/Receive
Blocking against Attackers
OH Passing/Setting
Emergency Defense
Play 3 vs. 3 or 4 vs. 4
Cool Down
Sample Afternoon Session:
Warm-Up Games
Touch and Go
7-Up
Switch Out
Cooperative 6's
Around the World
Freeball/Downball
Play 6 vs. 6 or Double Tournament
Daly Wrap-up