Select a Major
The lacrosse program at Kents Hill Sports Camp is built to improve your game, whether you're a beginner or a serious player looking to take your skills to the next level. After 3 weeks of hard work on the field, campers go home with an improved skill set and confidence in their abilities.
The goal of the lacrosse program at Kents Hill Sports Camp is to allow our campers to leave as better skilled, more confident athletes. College coaches and assistants will help to develop a player's all-around game while allowing each camper time to focus on the position of their choice. We will work to improve their general lax IQ, emphasizing strategy, techniques, and teamwork. This understanding of the game of lacrosse will be taught through drills, intra-camp scrimmaging, as well as games and tournaments against local camps. Our campers leave as better all-around players on the field and as more mature young women off of the field.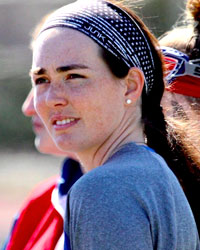 Ashley Snow
Lacrosse Director
Snow is currently the Assistant Coach for the Greensboro College Women's Lacrosse Team. Formerly, she served as the Assistant Coach and Offensive Coordinator for Hanover College Women's Lacrosse from fall 2017 through the spring of 2020. While at Hanover, she assisted Coach Brandon Allwood in leading the Lady Panthers to an ORLC Conference Tournament semi-final appearance in 2018, and an HCLC Conference Tournament Championship appearance in 2019. In that 2019 campaign, the team set offensive records in both goals scored (214) and total assists (104) in a single season, as well as the single game record with (7) goals by an individual and (24) goals as a team. During her time there, the team posted a (22-19) overall record and went (12-5) in conference play.
In her summers away from Hanover, Snow spent time directing the lacrosse program at a camp in Northern Pennsylvania, working daily with campers from ages 7-16.
Snow played lacrosse on the collegiate level after transferring to Oklahoma Baptist University in the fall of 2013, where she became a member of the Women's Lacrosse team. She led her team to a ranking of #7 nationally. In 2015, The Lady Bison finished with a conference tournament appearance for the second season in a row, and during their first round win against Asbury, Snow netted a season best (3) goal game. Snow wrapped up her playing career with the Lady Bison in a semi-final loss to Georgetown, KY.
Our lacrosse instruction will cover the following skill set:
Catching
Throwing
Cradling
Shooting
Dodging
Stick Checking
Defending
Attacking
Goalie Skills
Passing
Switching Hands
Face Off
Scooping
**In Order to play in Lacrosse games at camp, campers need to bring all necessary gear.**