Select a Major
For those who choose field hockey as their major at Kents Hill Sports Camp will not only have the opportunity to enhance their knowledge of the game, but will also develop and improve their skills in a game-like atmosphere.
Our field hockey majors will learn the importance of both foot speed and stick work, including but not limited to push passes, drives, dodges, pulls, spins, aerials, and more. Knowledge of how to specifically place the ball, how to position the body when playing defense, and how to approach a defender with deception will all become natural to your camper, as they enhance their skills and grow through challenges on the field. Our program provides field hockey majors with a mix of instruction and drills to help further advance game-like play in scrimmages, games and other challenges throughout the summer.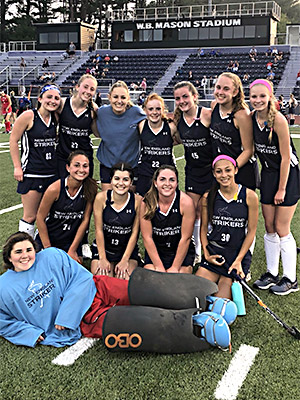 Kayleigh Lepage
Field Hockey Director
Kayleigh played field hockey at Stonehill College in Easton, MA where she played as a low midfielder/defender for four years. During her freshman year, she was part of a defensive unit that ranked fourth in the Northeast-10 conference. Kayleigh helped her team to four NCAA Division II appearances and two NCAA DII Final Four appearances in Louisville, Kentucky and Bloomsburg, Pennsylvania.
After college, Kayleigh advanced her love for the game on the sidelines, as a coach. She coached elite U16 and U19 club teams for the New England Strikers (based out of MA) for two years, where she facilitated intense practices to help high school sophomores, juniors, and seniors progress in their skills, game play, and knowledge of the game. Many of her players continued their careers throughout the east coast, playing DI, DII, and DIII field hockey. Kayleigh then moved back to Maine and became the assistant field hockey coach at Kennett High School where she helped coach one of New Hampshire's top ranked defensive units. Kayleigh was directly involved in the player development and helped lead the team to a 12-3 record in her first season.
Kayleigh currently serves as our Assistant Director, recruiting female athletes all over the Northeast to join us at Kents Hill Sports Camp.
Sample Field Hockey Schedule
Period 1
5 minutes – Introductions
10 minutes – Warm up drill, communication exercise, jog around field: High Knees, Open Gate, Close Gate, Groin, Butt Kicks
5 minutes – Stretching circle
15 minutes – Passing Drill: Stationary passing. Push pass, Drives, Sweeps, Aerials. Stick work: Yardstick pulls and shuttles with spins and dodges.
Water break
10 minutes – Shooting drill: "Rob the nest" – quick shots from the top
10 minutes – 3 v 2 under the 25-yard line: Work on movement of the ball around the circle and in the circle, possession, off-ball movement (cutting and getting yourself open without the ball), Offense score goal. Defense get the ball out of the circle or gain possession of the ball. Defense work on circle defense: protecting feet and not causing fouls in the circle.
5 minutes – Conditioning: Sprint to the 50 yard line and then recovery jog back. Do as many as you can within the 5 minutes.
Closing circle
Period 2
5 minutes – Warm up
15 minutes – Passing drill: Working on off-ball movement in groups of three. Stick work: Obstacle course with pulls, v-pulls, spins, lifts.
20 minutes – 6 v 4 under the 50-yard line: Work on movement of the ball around the circle and in the circle, possession, off-ball movement (cutting and getting yourself open without the ball), Offense score goal. Defense gain possession of the ball and dribble it through gates on the outside. Defense work on footwork, channeling, jabbing, and block tackles.
10 minutes – "Post, post, pads" – Shot from the top with three tippers in the circle, one on the left, right and at the stroke.
15 minutes – Scrimmage
10 minutes – Conditioning/Race: "Mary's Run"