Select a Major
Campers who select hockey as their major at Kents Hill Sports Camp are on the ice for at least 13 hours each week. A hockey period consists of a combination of skills, drills, and game play. The difference between us and other camps that offer ice hockey is that we have a rink on-site. This provides campers more ice time, which allows us to offer more in-depth, comprehensive instruction on all facets of the game. All campers have their own locker so all of the equipment stays at the rink. In addition to the hockey periods every day, we also have off ice speed/agility training and hockey inter-camp vs. local camps.
The overall goal for the summer is to make sure each camper is getting the most they can out of their experience. We have worked with hockey players at every level. It is our goal that each camper will have an experience that not only will be fun but also help them develop into the player they hope to someday be.
On-site Hockey Facilities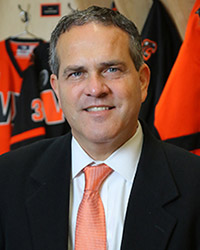 Mike Warde
Hockey Director
Mike is currently the Director of Hockey and Head Coach at North Yarmouth Academy, where he led his team to the Holt Conference Championship in 2018-19. A native of Rockport, Mass., Mike is a 1993 graduate of Iona College where he played forward and served as a co-captain his senior year when he received the "Pride, Hustle and Desire" award. His Collegiate coaching career got underway at his alma mater before accepting an assistant coaching position with the U.S. Military Academy at West Point for the Black Knights in 1999. After 4 years, Mike accepted a position as top assistant coach and head recruiter for the University of Alabama in Huntsville. Following a 7 year stint at Alabama, Mike returned as an assistant coach at the U.S. Military Academy for 2 seasons. Mike then spent 5 years as the director of hockey and head junior coach at Bridgton Academy in North Bridgton, ME.
Sample Ice Hockey Schedule
Monday
Forward Skating instruction

Posture
Strides, Glides, Recovery
Knee bend
Upper body movement

Drills in Waves

Balance
Edges
Squatting, jumping, hopping, knee drops
Sculling
C Cuts

Competition
Goalie movement drills
Tuesday
Passing & Receiving Instruction

Hand positioning
Soft hands
Weight transfer
Spin
Reach and follow through

Drills

3 Zones

Stationary partner passing
Circle drills

Move and replace, money in the middle etc.

Passing with movements and shots

Small game
Wednesday
Shooting Instruction

Hand positioning
Weight transfer
Push and pull
Spin

Wrist shot
Backhand
Snap shot
Slap shot

Drills

3 Zones/multiple nets

Stationary shooting against boards
Catch and release shooting
Passing with movement and shots

Small game
**In order to play Ice Hockey at camp, campers need to select Ice Hockey as their major and bring all necessary equipment with them.**