Select a Major
Whether a beginner, intermediate, or advance level tennis player, our tennis major is designed to take each campers skills to the next level. Campers will have two periods of tennis each day, focusing on proper swing form and mechanics, footwork, match play strategy, and live-ball drills in the morning. In the afternoon, campers will enjoy individual and team instruction sessions, combined with many games designed to compliment the drill work.
Over the course of 3 weeks, our campers will not only see significant progress in their all-round tennis game, but find themselves having lots of FUN and wanting to continue their training in tennis.
Our teaching professional and college tennis players will provide instruction tailored to each ability level, making sure the campers are challenged and achieving their goals.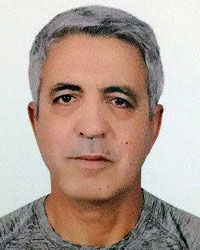 Lotfi Mornagui
Tennis Director
Lotfi is a seasoned tennis coach with over 30 years of experience all around the world. As a player he was ranked number 4 in Tunisia between 1983 and 1985, and was pre-selected for the Davis Cup team in 1984. Lotfi began his coaching career in Tunisia coaching players from all different age groups until he became the head coach for Selima Sfar, who was ranked as high as 75th in the world and participated in Grand Slams including Roland Garros, Wimbledon, US Open, and Australia Open.
Lotfi has worked as the teaching pro at Harry Hopman Tennis Academy at Saddlebrook Resort in Florida and Jesi Sporting Club in Italy. Most recently, he was the tennis director at a summer youth Tennis Camp in Connecticut for 4 years.
He currently holds the position of a tennis coach at Tennis Club de Carthage where he first learned tennis and has coached for most of his life.
Sample Tennis Schedule
Warm up
Stretch, preview daily game plan
Footwork Cone Drills – including lateral, up and back
Mini Tennis Games – doubles cross court, Z-ball, cross and alternate, games to 5 points, rotate volley and ball must bounce
Catch & Throw
Forehand or Backhand only – includes individual instruction to help each skill level
Stroke Instruction/Strategy of the Day – Forehand
Mark the zone – forehand only
Climb the ladder – footwork, position properly to the ball, return to the baseline
Target practice
Offense/Defense – forehand only, includes approach shot
Doubles over your head – play out the point
Individual instruction to help each skill level
Competition
Toss and approach – double games to 11
King of the court
Concentration – 2 v 1
First to 101 – extra points for a prolonged rally, ball placement, approach shot, winner
Fitness
Five ball pick-up
Baseline race
Circuit Rotation – 3 rounds
Lateral Cone Slalom
The Hex Test